AIS Meets IoT: How Technology is Set to Transform Global Ocean Trade
Discover the evolution of vessel tracking and monitoring technology and look into the future of smart global ocean trade and supply chains, harnessing satellite AIS, IoT connectivity and big data to deliver unprecedented levels of visibility and control…
Sea faring has had a monumental impact on the evolution of trade, transport and communication. No other single international endeavour has had such a profound effect on the evolution of commerce and migration – and the results of these early forays into new territories and trade routes are still being felt today.
History gives us countless examples of how a strong maritime presence – both military and commercial – was instrumental in not only finding and securing new lands, but then supporting and building the infrastructure to be able settle them in order to leverage local resources. One only has to look at the rapid expansion of the various European 'East India' companies to gain an understanding of this domination.
In the early days, competition between these entities and their parent nations was very high, and there was a constant battle to discover new trade routes and new lands to further the agenda of governments and trading companies. A mixture of bravery, knowledge and innovation that did much to advance the cause.
Innovating navigation
One of the single most important of these innovations was the maritime chronometer, invented by John Harrison in the 18th Century. Developed specifically to cater for the ravages of ocean voyages, the chronometer finally allowed seafarers to accurately calculate longitude while at sea, greatly enhancing navigation and safety.
Because of its importance as a worldwide 'enabler', any significant technological development in the maritime industry, such as Harrison's chronometer, had a profound economic trickle-down effect in terms of time, cost, quality and efficiency. Indeed, this is one of the reasons why such huge bounties and rewards were offered in the early days for the development of navigation solutions that we now take for granted in the modern era.
Following these initial early breakthroughs, the pace of technological development is still relatively high and is now starting to enter a new digital data-driven age. 100 years ago these innovations were driven by a combination of warfare and trade. Today, developments in global commerce are having arguably the biggest impact – and will likely continue to do so for many years.
One of the most important recent breakthroughs has been the development, introduction and international adoption of automatic identification system (AIS) technology. AIS technology first saw major adoption after 2002, when the IMO SOLAS (1) Convention was modified to require the majority of vessels over 300GT (approximately 100,000 worldwide) to fit a Class A type AIS transceiver when embarking on international voyages.
This was followed in 2006, when the AIS standards committee published the Class B type AIS transceiver specification, which lead to the development of lower-cost and more commercially viable AIS devices that could be fitted to a much broader array of smaller commercial vessels. Local and regional laws subsequently determined which vessels had to have a device fitted and in which waters their use was applied.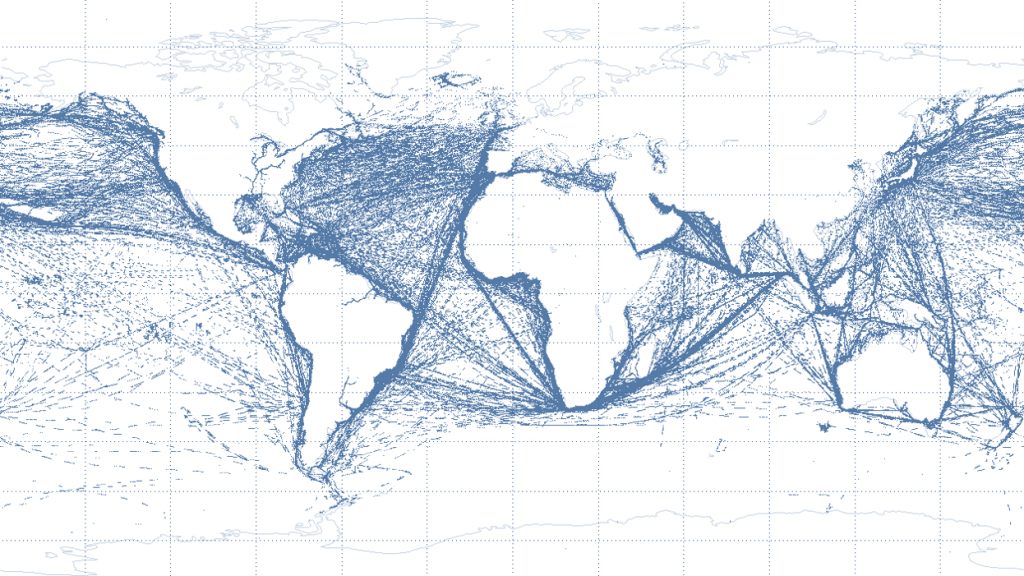 Satellite's revolutionary role
AIS was originally envisaged as short range, high-intensity identification collision avoidance system between vessels which lent itself to being used as a  tracking network for controlling vessels in range of land stations in territorial waters.
ORBCOMM was originally approached in 2001 by a research professor at Johns Hopkins University's Applied Physics Lab (JHU/APL) in conjunction with the U.S. government. Recognizing the range limitations of existing ground-based AIS receivers and that AIS could become a global tool to increase maritime domain awareness if satellite-based receivers were bought into play, ORBCOMM was awarded a contract by the US Coast Guard in 2004 to develop and operationally demonstrate this capability from space."  In subsequent years, the usefulness and capabilities of AIS data were massively expanded and other companies started experimenting with the detection of AIS transmissions using satellite receivers. Having pioneered the creation of satellite technology, in 2008 ORBCOMM become the first provider of commercially available AIS data from space when it launched six AIS-enabled satellites. As a result, vessels can now be tracked anywhere in the world that has a satellite-detection footprint, not just in territorial waters.
ORBCOMM operates a global M2M satellite network and provides AIS data from 18 AIS-enabled satellites that feed into 17 earth stations sited in strategic locations around the globe. The first group of six ORBCOMM Generation 2 (OG2) satellites was launched in July 2014, with another 11 completing the constellation in December 2015. These OG2 satellites, which provided enhancements over the OG1 constellation, have been designed specifically to cater to the more modern needs of ORBCOMM's customers and their operations by offering increased network speed and capacity, while providing better coverage at higher latitudes. Through this new constellation, vessels will see a satellite every eight to 15 minutes, providing an average latency of less than 10 minutes worldwide.
Since this major milestone, and the integration of AIS signals into a wider M2M network, satellite tracking has undergone a paradigm shift in terms of the capabilities it can deliver. By pushing the boundaries of detection and exploiting the information available, satellite-based systems are now having a huge effect on many other areas of maritime operations and locations. The list of entities both involved with and exploiting AIS and other maritime data streams highlights the wide appeal of this information.
Enabling safe and secure ocean trade    
Governments are using AIS data for a number of initiatives above and beyond its original application for collision avoidance. As well as surveillance and security, satellite AIS is being used for search and rescue and the data provided are being coupled to information from other data sources to create a bigger picture concerning maritime traffic and operations. In cooperation with commercial entities, governments are also using satellite AIS for counter-piracy operations, environmental monitoring, fishing regulation compliance and incident investigations.
Looking back at the individual applications, security and surveillance were two of the major drivers for the uptake of AIS technology. Following 9/11, maritime transportation was identified as a major threat vector and was one of the drivers behind the push from the US Coast Guard to have greater visibility. By monitoring vessels and collating course and speed with embarkation and destination locations, border control agencies can get a much better handle on maritime traffic.
Another huge discipline that has successfully exploited AIS data is fishery compliance. Worldwide, average fish consumption is 160 million tons per year, with China consuming one third of this. As a result, regulations are required to combat overfishing and allow the replenishment of the supply in order to prevent complete depletion of popular sea stocks. Further developments are underway in this highly sensitive arena, with commercially viable technology being developed for even the most basic fishing vessels and fleets.
The environment is another major beneficiary of AIS technology, as vessel course and speed data can be combined with satellite imagery to determine a source of pollution such as an oil spill or illegal chemical discharge. Tracks can also be plotted to see if ships are staying within defined shipping lanes are areas – with high-profile examples of non-compliance hitting the headlines, such as the Sheng Neng hitting the Great Barrier Reef or Costa Concordia grounding off the Island of Giglio.
Facilitating global ocean logistics and commerce
Commercial customers on the other hand are realizing the potential of satellite AIS to shed light into the critical ocean segment of global trade and logistics operations, running the gamut from monitoring energy and commodity shipments to tracking container vessels hauling consumer and industrial goods.
Commodity tracking and trading is an interesting example. Using AIS data, firms can take a ship's positions and apply complex algorithms to determine cargo flows and then compare them with historical data to find financial market mispricing. With commodity trading seeing daily fluctuations based on supply and demand, one could envision this as a maritime stock market, with the value of trades being determined by physical commodities sitting on slow-moving ships rather than being traded instantaneously over the Internet.
Looking ahead, the biggest impact will likely be on global supply chain operations – and the benefits will not just be for the maritime stakeholders.  For instance, early adopters in the port community are already using AIS data to accurately monitor vessel arrival, berthing and departure times. This can drive tremendous efficiencies for port and terminal operations, such as improving coordination of the myriad port service activities associated with each vessel call.
With today's mega-vessels loading and offloading upwards of 10,000 containers at a time, more precise data on vessel arrival and departure could also have significant supply chain benefits, giving better advance visibility to shippers, hauliers, rail and other parties coordinating complex, large-scale landside logistics.
And it doesn't end there. Couple enhanced satellite coverage and bandwidth with new developments in M2M telematics and sensors for monitoring of individual containers or trailers and their cargoes and the potential impact on global maritime supply chains is truly enormous.
Advances in GPS locating, cellular, WiFi and satellite communications, M2M telematics and sensors are converging to fuel an explosion of connected, smart 'things' – including containers, trailers and other transport assets – as part of the Internet of Things (IoT).  In turn, the vast amounts of data generated by IoT connectivity will increasingly fuel advanced software harnessing AI and machine learning to make more intelligent manufacturing, supply chain and logistics decisions.
The future will see AIS data combined with a whole host of other M2M, IoT and digital data sources to build up a complete picture of the supply chain. From manufacturing and origin warehousing through land transportation, ocean voyage and right up to last mile delivery, we now have the potential to see a much bigger real-time picture in terms of consignment location and condition. And it is this 'bigger picture', based on existing connectivity nodes that is destined to get a lot more detailed in the next few years.
Big data and the IoT are already starting to drive land-based logistics. With the advent of on-ship cellular and wireless networks, and more commercially viable means of transmitting and receiving data, these land-based gains will very soon get their sea legs. In fact, the world's largest container shipping line has already equipped nearly 300,000 refrigerated containers with remote tracking and temperature control devices, and has outfitted its vessels with cellular networks for on-board monitoring of these boxes, with data backhauled to land via new generation lower cost fleet broadband. There will be more of this to come.
Imagine a future where a shipper of fresh produce can open his smart phone app to check on the location and condition of a single pallet of berries, or avocadoes, or mangoes, inside one of 2,000 refrigerated containers, on a 20,000TEU mega-ship, in the middle of the Atlantic. We are not so far from that reality today.
What we are witnessing is the birth of total end-to-end supply chain visibility that is both location and transport-format agnostic, across land and water. A new technology ecosystem is being created that will ultimately allow all the maritime and landside supply chain members to precisely track individual consignments down to windows of just a few minutes – of both time and latitude and longitude.
(1) International Maritime Organization Safety of Life at Sea Convention
(2) M2M = Machine-to-Machine
A version of this article originally appeared in The Maritime Executive.
Cody Lirette is Senior Content Marketing Manager at ORBCOMM. With over seven years of marketing and communications experience for both the public and private sector, he uses his passion for innovative technology and plain language to build compelling content that provides value.
Get started with ORBCOMM
Digitalization is transforming industrial operations around the globe. Learn how ORBCOMM solutions can optimize yours.
Get a Tailored Quote